Barwicker No. 126 has now been published. The Barwicker is now published only three times a year.
The society's programme of summer meetings is now available. Details of the visits out of the parish for the summer.
There is another indoor meeting arranged at short notice. This will take place at John Rylie House on Wednesday, 20th June at 7.30 pm. Michael Copeland will be presenting his illustrated talk on "They gave – WW1 Ambulances"
In addition to this web site the society now has a Facebook page which you can join
---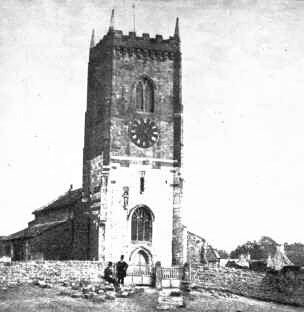 ---
This is believed to be the oldest photograph of the church viewed from the Cross. This photograph, which was provided by G F Jones,for the publication "The Old Kingdom of Elmet." G.Fowler Jones restored the church and it re-opened in 1856. The photograph was taken before the restoration began. In front of the church is the Rector Canon Hope and his curate, which could be either R H Poole or Stafford Bushnell.