---
While we may think that modern times are more dangerous than they used to be, Victorian times had their dangers. Recently I saw the photograph of a Victorian gamekeeper (see illustration) and, to my surprise, I heard on enquiring who it was, that it was a gamekeeper, Peter Hills, from the Parlington estate who was murdered. I was intrigued and decided to find out more. Peter Hills was buried in Aberford Churchyard and, on finding his grave, I found the following inscription:
Peter Hills of Parlington
who died May 12th 1879
Aged 51 years
Also Frances his wife
who died September 3rd 1900
Aged 71 years
There was no hint of the manner of his death. From the Aberford census of 1861, I found that he was born in Hemingswell, Suffolk and his wife was from Icklingham in Suffolk. Their first two children were born in Scourby, Lincolnshire in 1855-57 and the third at Parlington in 1859/60. Apart from this and the photograph we do not know much about him.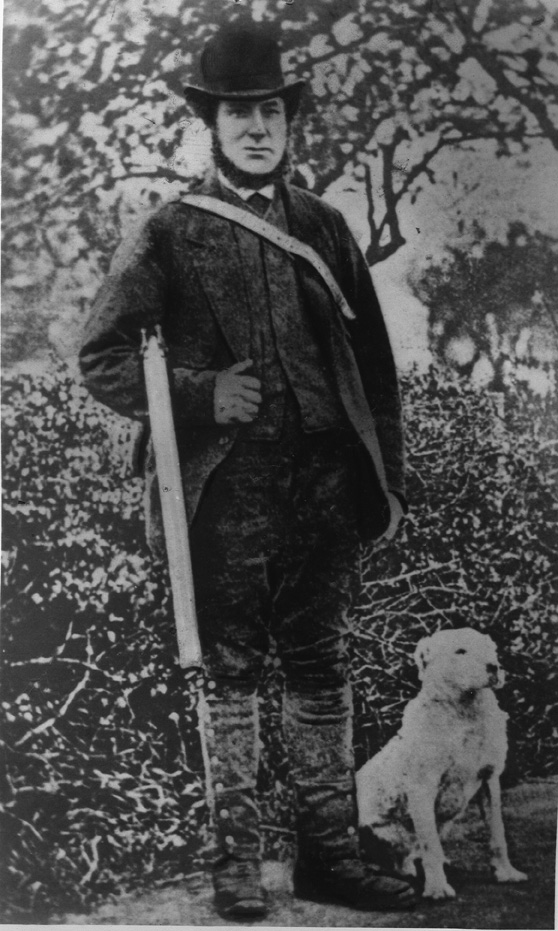 Peter Hills (1860s)
From the date of his death, I was able to find the accounts of the affray in the newspapers of the time. The Yorkshire Post and Leeds Intelligencer of Wednesday, May 14th, 1879 gave details of the murder under the heading:
THE FATAL POACHING AFFRAY AT PARLINGTON PARK.
The report of the appearance of the suspects before the Leeds Magistrates gave details of the murder. Early on the morning of the 29th April, an affray took place at Parlington between six poachers and the Park's gamekeepers as a result of which Peter Hills (one of the latter) received fatal injuries. In court were five accused, Mark Hazlegrave, miner, Henry Bennett, labourer and George Rhodes, cloth dresser all of York Reed, Leeds; William Ball and Thomas Arundel, miners of Halton. They were charged with wilfully murdering Peter Hills and doing grievous bodily harm to John Hurley, both underkeepers in the service of Colonel Gascoigne of Parlington Park. The prosecutor stated that it was believed that there were six poachers although five only were in custody.
The evidence In court gave the following details. The head gamekeeeper, Andrew Cassidy, accompanied by three underkeepers, Peter Hills, John Morley and John Goodall went out onto the estate at 9 30 pm on 28th April to watch They were all unarmed. They went into the keepers' field shed in the occupation of John Thlrkell and waited for they knew that there was some poaching going on. The shed was divided in two by a partition and had two entries in one end and one at the other. Andrew Cassidy, who appeared to be quite a powerful person, said in evidence:
"We occupied the west portion and about half-past one we heard footsteps, and looking out at the door I saw five men enter the other portion of the shed and then pass out into the field. We rushed out at the five men and as soon as we did so a sue was fired by the poachers. I ran up to Bennett, who tried to strike me with a thick stick which I broke with my stick in warding him off. I then struck Bennett with my stick and he fell. I was immediately charged by Ball, Rhodes and Hazlegrave, who rushed at me with sticks. I received two blows on the arm, one of which was struck by Hazlegrave. I knocked down Ball and Rhodes with my stick. Hazlegrave then made off and I ran after him and caught him. Hazlegrave threw himself down and asked me not to strike him. I said I would not if he would be quiet. He was quiet and I got bold of him and took him up to the shed. I found Hills lying near the shed and also Morley. Hills was quite insensible. Morley was bleeding and was in a stupid state. I assisted to place the injured men in the shed. Next I went to the stables to wake a groom to go for the doctor and a policemen. I had kept hold of Hazlegrave the whole time, and I took him to my house and kept him there until a policeman came. Hills was removed to the Leeds Infirmary and Morley to his own home."
He said that it was a moonlight night and he had no doubt as to the identity of the five prisoners. He also found long nets, two bags containing live rabbits, four bludgeons and a number of net pegs. He had been to the Infirmary the following afternoon and had seen a number of men together from whom he picked Hazlegrave and Bennett as two of the poachers who had taken part in the affray. On Saturday 10th May, he had been to the West Riding Police Station in Leeds and from about a dozen men had identified Ball, Arundel and Rhodes as three more of the poachers.
There was evidence from Walter Dobson, a farmer of Colton, that he had seen Arundel and Ball in a back lane leading from Halton to Cross Gates going towards Cross Gates at about 8.45 on the night of the 28th April. They were about 200-300 yards from where they lived. Henry Johnson, a carpenter from Whitkirk, said that soon after 9 o'clock on the 28th he met Arundel and Ball near to Stanks Bar while he was on the way to Whitkirk. This was about half way between Halton and Parlington.
Police Sergeant Morley, stationed in Garforth, said he received Hazlegrave into custody at about 3.30 In the morning. The prisoner said to him,
"I was drunk or I would not have been there".
Ball had told Sergeant Morley when he arrested him at home that he was at home all night. In the house the sergeant had found a number of snares and purse nets.
The Skyrack Division Police Superintendent, Joseph Stanfield, described arresting Bennett at his brother's home in Bickerdike Road, York Road. He was waken in his bed and said he had never been out of bed. On the bed was wet and dirty clothing and a waistcoat with fresh blood on it. The top of the prisoner's head had a wound on it which was still bleeding. In the consequence of what Hazlegrave told him he apprehended Rhodes, Ball and Arundel.
The house surgeon at the Infirmary, Mr Walter Brown, gave evidence that Peter Hills had a wound on the forehead that went to the bone. He was conscious for five days and then became delirious. He died early in the morning of the 12th May. A blow from a loaded stick or the butt end of a gun would be likely to cause the wound. Dr Grasbach of Gar-forth gave evidence on the injuries to Morley. He had nine cuts on his head besides bruising and bruising on his back. A subsequent coroner's inquest found that Peter Hills had died from injuries received from poachers.
The report made no mention of evidence for the belief that there were six men involved. The prisoners were committed to trial at the next Leeds Assize. The five appeared before Mr Justice Stephen at the West Riding Division of the Crown Court on Tuesday 29th July 1879. They were indicted for night poaching on the estate of Colonel Gascoigne at Parlington and for assaulting two gamekeepers and for the manslaughter of Peter Hills. The charge of murder made at the Magistrates Court had been changed. There was little new information reported in the Yorkshire Post. We learn from their report that William Ball had an alias 'Honey' Ball and that he was 26, Hazlegrave 45, Bennett 24, Rhodes 40 and Arundel was 39. Hazlegrave and Bennett admitted that they were there but had done nothing. The others denied that they were there.
After a brief consultation, the jury found all the prisoners guilty. In giving his sentence the judge said that Rhodes had been proved to have struck several blows of considerable violence. Nevertheless he would not make any difference in the sentences he would pass on that account. None of the prisoners was of good character he declared. Rhodes had previous convictions for a variety of crimes 'not altogether unconnected with poaching', twice for stealing and four times for poaching. For his last crime he had served five years penal servitude. Hazlegrave, Bennett, Arundel and Ball were sentenced to five years penal servitude and Rhodes received seven years penal servitude.
At the same Assize on the same day, Edward Salles (26), William Hickling (46) and Matthew Wadsworth (23), all colliers were sentenced to three months imprisonment with hard labour for night poaching on the estate of Colonel Gascoigne on 6th July. It must have been a busy life to be a gamekeeper at Parlington Park.
So what conclusions can we draw from the above events? Life could be violent. Criminals risked a lot for what we would call a small gain - a rabbit or two. Heavy sentences did not deter desperate criminals. Three of the five were over 35, unlike today when most crimes are committed by young men. Criminals who did not have the benefit of cars or public transport which we have today, were unexpectedly mobile. Were there no rabbits to be poached between York Road in Leeds and Parlington? I can't believe that Barwick was a rabbit free zone in Victorian times.
Lastly my thanks are due to Mr Bill Hills of Bramham, the great-grandson of Peter Hills, for arousing my curiosity originally and for the loan of the photograph.