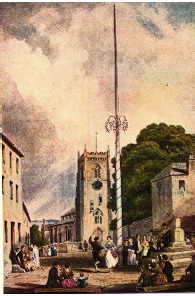 Click on the picture to see it enlarged
Village Scene by W.R.Robinson

Update.

The original painting has been found in the Local Studies Section of the Leeds City Library. It was bound into a book produced by William Boyne (1814 - 1893)entitled "The History of Leeds" along with paintings of Kiddal Hall, local coats of arms and other items of local interest. The original shows details which are not clear in the copy which was in Colman's "A History of the Parish of Barwick-in-Elmet in the County of York."
It is clear now that it was produced in 1849.

We are grateful to the perseverance of a society member David Teal in discovering the lost original.

The picture contains some artistic licence, e.g. the house on the left, which still stands today, is only two storeys high. Nevertheless the general view is accurate. The activity portrayed is not typical of how the Maypole ceremony is celebrated in the village as we do not dance round the Maypole as a routine. The erection of what looks like a crude marquee alongside the Rector's Coach House has come as a surprise by-product of scanning this picture.